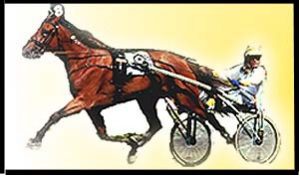 The Welsh owned Irish trained superstar Crown Manhattan lived up to all the pre-race hype at Annaghmore last Saturday pacing to a scintillating victory in the highlight of the 10 race programme the bookmakers sponsored Free For All. Eight top pacers were assembled at the Northern venue including Dundalk winner Hes For Real, Boughrood winner Southlands Art, a returning from injury Galiano and West Cork raiders Earned Income (unbeaten this season) and Bon Camotion.
From the number 1 draw Southlands Art tried to lead out, as did Ayr Glory (drawn 4) but Earned Income (Drawn 2) drew first blood and grabbed the rail. The rush was on then to grab some cover as Earned Income stretched them out in a 28 quarter. It later transpired that Earned Income had got a puncture shortly after the off and he ran a game race to hold off all-comers until the three quarter pole under the circumstances. At the half, Galiano (drawn 8) started to lose his position as did Swingman (Drawn 7) and Bon Camotion (Drawn 3). As they blistered down to the ¾ pole John Richardson put the race to bed in a matter of strides and Crown Manhattan went further and further clear to clock 1.57.7 on what was a dry but blustery day. Ayr Glory did well to battle on for third while the big story of the race was arguably Southlands Art (handicap only 062 in old system) who showed that he could live with the big boys having got shuffled back to last by the half before mounting a serious comeback to snatch second.
Manhattan's path to the top hasn't always been smooth and he has been dogged by inconsistency in the past but he has gone from boy to man since his William Hill Wolverhampton Classic win but it would take a brave man to question his resolution now. Wherever he goes from here on in Crown Manhattan will now carry with him the burden of odds on favouritism and is the one to be shot at it.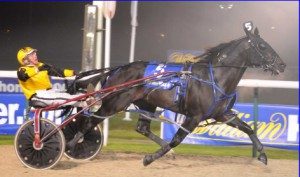 In the winners enclosure a jubilant John Richardson indicated a race at Derbyshire track Pike Hall track as Crown Manhattan's next appearance followed by a campaign of Crock Of Gold Heats. Richardson faces some difficult decisions over the coming months. With Kikicolt, Judgecam and Bon Jasper all coming back from injury and Crock Of Gold qualification for all three firmly in the minds of their respective owners, just who does John opt to drive if all 4 are entered in the same heat? When pressed about this, Richardson would give nothing away only saying "It's a nice problem to have" Watch this space!
On last Saturday's undercard the much travelled Springhill Horizon finally got off the mark for the season to win the Class 010/019 for Wexford owner Dave Hendrick and driver Ned Stafford. Sprinting into a commanding lead at the off in this the five year old had to dig deep in the closing stages to hold off the determined late challenge of
Wellfield Duchess in a lifetime best of 2.00.4. Wellfield Duchess is a revelation on a hard track and she has the makings of a very decent race mare if kept to the firmer surface (she got bogged down at Appleby).
Patrick Kane is having a bumper year and he notched up a treble on the day with Lyons Stephen, Colin Trot and Hopping Rook respectively. Colin Trot has been known to act up at the start in some of his races but the Dutch bred got it right last Saturday and was never headed to win quite cosily in 2.04.6 from odds on favourite Quarterpast Six.
Hopping Rook, Kane's drive in the Class 022/042 was unfancied in the betting market beforehand but the towering bay belied those odds to slam Springhill Kate, Current Design and West Cork raider Rhyds Puzzle in a pedestrian time of 2.04.6. Puzzle was particularly disappointing as he never seen the paint as a result of some poor driving and some bad luck.
The hat-trick for Kane was completed when Lyons Stephen blitzed a field of older rivals to win the second division of the Novice/Improver/Intermediate in an exceptional time of 1.59.8. Incredibly the three year old was making only his third ever racecourse appearance following a win at Leap on the opening day and a stellar performance against Rhyds Destiny and Camden Lover at Appleby Spring races. Connections are now aiming the Hasty Hall bred colt at the forthcoming UK Derby which will be held at York on June 27th and it would not be surprising if the Irish were to win this classic again following in the footsteps of the likes of Meadowbranch Gigolo, Cams Best, Fantastic Western etc
Lyons Stephen can only keep improving and Rhyds Destiny, Rhyds Phantom and Camden Lover better watch out!
The other Novice/Improver/Intermediate was a much more slower run affair and this was won by favourite Iceskater Hanover which repelled the late challenges of Marion Hall and Southwind Pacifica to triumph in 2.03.7.
Two divisions of maidens were run on the day and these were won by Tailgate Princess in 2.04.4 and Canewood Legacy in 2.04.1. Tailgate Princess was particularly impressive having come from what looked like a hopeless number 7 draw off the back line while Talavary Cherokee is a Meadowbranch newcomer to watch when he next visits the UK.