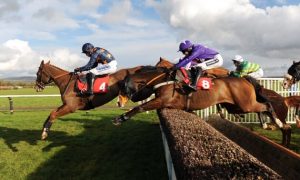 Harness racing is a type of horse racing in which the horses race at a specific gait, a trot or a pace, while pulling a driver in a sulky. Like any other type of equestrian competition, harness racing is usually held at dirt racetracks.
There are various horse racing fields around Scotland and we are going to write about some of the most important ones, but before that, if you are like us and enjoy competitive sports and would like to try your hand at gambling, check out these huge sports betting bonus codes.
First off, the only dedicated hard track for harness racing in Scotland is Corbiewood Stadium. Located at Muiralehouse, a half-mile south of Bannockburn, Stirling, the track takes its name from 'Corbie Wood', the woodland that the stadium was built on. It was developed in the early 1960s by haulage contractors James and Daniel Taylor as a training track for their own horses. Regular race meetings began being held here in 1966.
The Corbiewood field is used for American-style harness racing, also known as trotting races. The races normally take place from May until November, and the facilities also include a glass fronted cafe and bar with seating overlooking the track.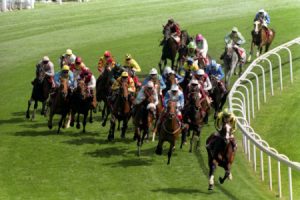 Secondly, the Ayr Racecourse at Whitletts Road, Ayr, is the biggest racecourse in Scotland and was opened for public races in 1907. Unfortunately for harness racing lovers, this horse racing field only includes courses for flat races and hurdle races (jumps). The course for flat races is generally flat, with gentle undulations, particularly in the straight, while the jumps course is a left-handed one and a half mile circuit with nine fences.
Then there is the Musselburgh Racecourse, which is the second biggest racecourse in Scotland. The venue is located in the Millhill area of Musselburgh, East Lothian. The venue houses both flat racing and National Hunt meetings and the course is 2 km long. As a special treat, golf lovers can also take advantage of the nine-hole golf course in middle of the horse racing course.
In 2011, Musselburgh won the Dual Purpose Award at the Neil Wyatt Racecourse Groundstaff Awards, plus a series of other important accolades through the RCA Showcase Awards. Nowadays, the racecourse has an annual attendance of over 70,000 per annum, with Ladies' Day in June being the biggest day with sell-out crowds of no less than 10,000 people.
Finally, Scottish fans can attend horse races at Hamilton Park Racecourse, which is a thoroughbred horse racing field in Hamilton, south of Glasgow. It is a flat racing venue, with a season which runs from May to October, and is a high-profile location in the area, known for mixing good quality racing with glamour and entertainment.